California Miniature
Schnauzer Rescue

Sponsor and/or Adopt a Senior or Special Needs Dog
Seniors and special needs dogs are the most difficult for CMSR to rescue.
They are often hard to place in a new home and remain with us for extended periods until we can find an adopter—sometimes for the rest of their lives.
They generally need much more veterinary care than young healthy dogs. The costs often runs $1,000 or more for just one dog—and that cost is not passed on to their adopters.
On the other hand, most are really nice dogs, many of whom have been neglected much of their lives. They are clearly very grateful when they get to live with someone who loves them and takes proper care of them.
Please consider adopting or fostering a senior or special needs dog. They fill very large holes in your heart that you may have never known were there.
Whether or not you can adopt or foster one, please help by sponsoring one our seniors/special needs dogs.
You can Paypal funds to:
cmsr@jdslextreme.com
(Be sure to check the Friends and Family box so that Paypal does not charge a fee.)

Alternatively, you can mail a check, payable to CMSR, to:
CMSR
4035 Robin Hill Road
Flintridge, CA 91011.

CMSR is a 501(c)(3) charity, so contributions are tax-deductible to the extent allowed by law. Contact John Hoffman at cmsr@johnehoffman.us with any questions about sponsoring.
Please Sponsor or Adopt Rescue Terrier Orson—Senior with Cataracts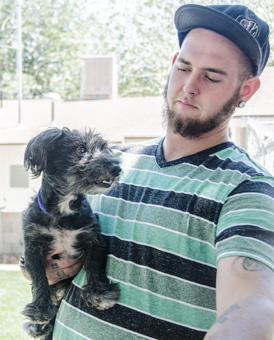 Orson is a super cute little terrier/spaniel mix. The shelter estimated his age at about 10. We think he is more like 8. Poor Orson has cataracts and badly needed a dental.
We've already spent about $800 on Orson for his shelter pull fee and the vet bill for neutering him, doing a dental, and removing a couple of growths. (The bill would have been much more, but our great vets at East Valley Veterinary Clinic give us a break on the seniors.)
Orson has cataracts in both eyes. Surgery to let Orson see again will cost about $3,500.
This photo was taken right after we got Orson out of the shelter and he seemed to love Corey Nagel who is holding him in the photo.
Orson likes people and other dogs. We don't know yet how he is around cats.
Orson appears to be in good health apart from his cataracts. He is neutered, microchipped and up to date on vaccinations.
Sadly, Orson has passed away. However, he was able to live out his last years in a home with other dogs for company and with a foster who adored him.
© California Miniature Schnauzer Rescue, Inc., 2012–2022
Last Updated: January 19, 2022