California Miniature
Schnauzer Rescue
—Dogs Available In Northern Cal.
PLEASE DO NOT EMAIL US ABOUT A DOG WITHOUT FIRST SUBMITTING AN APPLICATION. We will not respond to your email if we have not received an application from you.

We do not adopt dogs or puppies for use as service or emotional support animals.

The adoption application form for dogs in northern California (unless otherwise stated for a particular dog) is at www.schnauzers.us/adoptionform.html.
Miniature Schnauzers from China:
There have been few Miniature Schnauzers in California shelters needing rescue since the beginning of COVID-19 in about March 2020. Since then, we have joined other rescue groups (who are rescuing other breeds) to rescue Miniature Schnauzers from China. We have rescued 22 so far. All but one have been adopted. Dougie, the only one still available is listed below.
The last 4 arrived in March 2021. Two were 7 month old female littermate puppies. Two were blind. One couple adopted the sister puppies, so they were able to keep them together. Another very kind couple, who also have an older Schnauzer, adopted the two blind dogs who are doing very well in their new home.
WE DESPERATELY NEED DONATIONS TO PAY FOR THE COST OF RESCUING THE CHINESE SCHNAUZERS. The air fare alone for the first 18 cost about $2200 per Schnauzer. Vet bills in China, cargo agent fees, and various other taxes and fees, added another roughly $300 per Schnauzer, for a total cost of $2500—PLUS the expenses we had for them after arrival. The landed cost for the last 4 was about $2000 each because the airfare came down somewhat.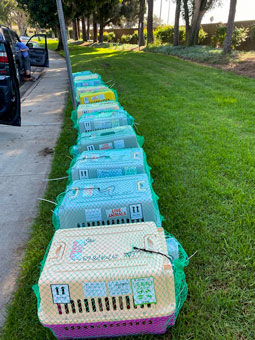 Here is a photo of some of the 15 crates lined up on 10/14/2020 after we unloaded them from our SUV and another rescue's van. We took the dogs to a park near LAX where we could get them out of the crates, potty them, feed and water them, put clean bedding in their crates, and then load them back on the vehicles for their ground trip to their foster homes. Some of the dogs arrived at night, making it even more diffiult to get them cleaned up.
We Have No Schnauzers Available in Northern California Right Now
© California Miniature Schnauzer Rescue, Inc., 2012–2021
Last Updated: July 14, 2021