California Miniature
Schnauzer Rescue
—Dogs Available In Northern Cal.
PLEASE DO NOT EMAIL US ABOUT A DOG WITHOUT FIRST SUBMITTING AN APPLICATION. We will not respond to your email if we have not received an application from you.

We do not adopt dogs or puppies for use as service or emotional support animals.

The adoption application form for dogs in northern California (unless otherwise stated for a particular dog) is at www.schnauzers.us/adoptionform.html.
Rescue Schnauzer Terrier Puppy Marlon Brandog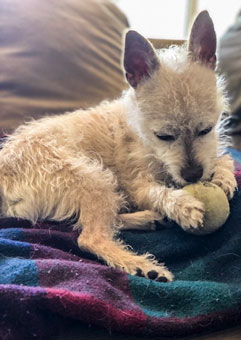 Marlon came to us from the Moreno Valley shelter where he had been left with a broken leg. Specifically, his femur was broken mid-shaft and also at the head where it enters the socket joint. Fortunately, our wonderful surgeon, Dr. Balfour, was able to repair the damage and Marlon is now as good as new. Marlon weighed 12 lbs on intake at the shelter but was underweight. He probably now weighs about 13 lbs. The shelter aged Marlon at 4 years old, but he appears to us to be between 1 and 2 years old.
Marlon is as sweet a dog as exists anywhere on the planet. He loves people and he loves other dogs.
Marlon is in good health. He is neutered, microchipped and current on vaccinations.
Marlon is being fostered in Napa. If you would like to adopt Marlon, please submit a completed Adoption Application form. Contact Mary Alford at schnauzer@dslextreme.com with any questions about Marlon.
© California Miniature Schnauzer Rescue, Inc., 2012–2018
Last Updated: August 1, 2019