California Miniature
Schnauzer Rescue

In Memoriam
Our goal is to place as many Schnauzers as we can so that they can live out their lives in happy homes. Sadly, we cannot save every Schnauzer who comes into a shelter. Some, unfortunately, are too old and too sick to place. Others we are able to place in foster homes, but cannot find permanent homes for them.
We honor their memory.
Rescue Miniature Schnauzer Mix Vida
Vida was a sweet young female Miniature Schnauzer mix. Vida was found by a Good Samaritan who cared for Vida while she tried, unsuccessfully, to find Vida's owner. Vida's finder couldn't keep Vida because she has a larger dog who resents attention being given to Vida. Vida's finder therefore asked us to take her and we agreed.
Vida was uber friendly with people and good with other dogs. What's more, Vida was housebroken. She loved blankets and soft toys.
Vida appeared to be in good health. Sadly, Vida died suddenly on September 30, 2022. She came down with vomiting and diarrhea that morning. We took her to our vet in Lancaster, where she died. Vida had tested negative for parvo. Our vet said that there is an unidentified virus that has been going around and that a few dogs have died from it.
It is always heartbreaking to lose a young apparently healthy dog, especially one as sweet as Vida. We are devastated. Rest in peace, Vida.
Rescue Schnauzer Killian
Killian came to CMSR in August 2017 from Mendocino County. He was a handsome boy who was a "maxi-sized" mini. He turned 13 years young on December 27, 2021.
Killian was adopted in August of 2017 by a wonderful senior gentleman who kept in touch with us with pictures & stories. Unfortunately, about a year and a half after adoption, Killian's new Dad developed some medical issues and had to return him to us.
Rather than adopting Killian out again, he happily resettled in his previous foster home with Suzi Johnston, and who dropped Killian off for a special visit with his former Dad every month until COVID hit.
Killian fit in with his Pit Bull and American Staffordshire brothers and sisters in his foster home. He also helped raise many rescue puppies of all breeds getting them ready for adoption. He'd play tug of war with them & wrestle in the grass with them. He was a great ambassador.
A year ago, Killian was diagnosed with lymphoma. He also developed eyesight and hearing issues, became uncertain as to where he was, and developed difficulties with his rear legs. It finally became obvious that it was time to let him go as he was no longer able to rally back from his problems. His foster mom and several friends were with Killian when he passed away on March 26.
Killian will be missed by so many friends.
Rescue Schnauzer Gloria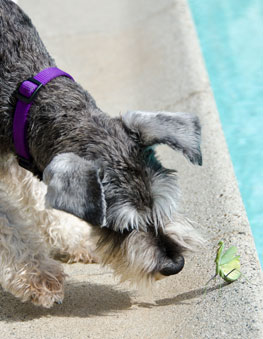 Gloria came to us from the Kern County shelter in Bakersfield in August 2011, making her one of the first dogs we rescued after we formed CMSR. Gloria quickly became John Hoffman's constant shadow and friend. Gloria also became the "Walmart greeter" and "mother hen" to the more than 100 Schnauzers and other dogs who passed through her home on their way to new adoptive homes. Many were injured and in pain when they came. They found a sympathetic and reasssuring presence in Gloria.
Shortly after we rescued Gloria, we rescued Gary, a puppy with two fractured femurs. Gloria was Gary's constant companion during his long recovery. The two remained fast friends until Gary's untimely passing from cancer.
Gloria appeared to be in good health right up until her untimely passing. She appeared perfectly normal on January 7. She ate her breakfast on January 8. During the day, it appeared that she had an upset stomach, but she ate her dinner. Then, suddenly, she got very sick. We rushed her to an emergency vet just after midnight. Tragically they had to euthanize her early Saturday morning on January 9, 2021.
Everyone who came to John Hoffman's home adored Gloria because she adored all of them. We are devastated at her loss.
Rescue Schnauzer Candy
Candy was a very sweet approximately 10 year old purebred Miniature Schnauzer, who we rescued from the Riverside Coachella shelter near Palms Springs in October 2018. Candy weighed about 15 lbs.
Candy was a quiet but friendly girl who got along well with other dogs.
Candy's teeth were bad when we got her. She had a dental done and lost all but 2 teeth in the process, but we had those two cleaned and polished. Candy was an eager eater. She enjoyed kibble, but could not eat hard biscuits.
Candy was fostered in La Cañada where she shared a home with 3 others rescued from CMSR. Sadly, Candy had a stroke on July 24, 2019 and passed away the next day. She will be sadly missed.
Rescue Schnauzer Denny
We rescued Denny from the San Bernardino County shelter at Devore where he and many other dogs had been taken after being seized from a hoarder situation. He was a hairy mess with skin problems when we got him, but medicated baths, good food, lots of love, and skilled grooming have brought him around to the gorgeous dog in the photo. Denny had natural ears and a docked tail.
Denny was a white Miniature Schnauzer. He was about average size for a male Miniature Schnauzer. The shelter said Denny was snappy but he was good with us and allowed the Nagels to groom him.
Denny got along well with other dogs.
Denny became older and somewhat arthritic after we rescued him, but otherwise seemed to be generally in good health until the last few months. He was neutered, microchipped, current on vaccinations, and had had a dental done.
Denny spent his last months with our friends at Valley of the Sun Giant Schnauzer Rescue in Phoenix, AZ, where is was able to enjoy home life in the company of his long time friend Bentley and some new Giant Schnauzer friends. Denny passed away on March 18, 2019. We miss him.
Rescue Schnauzer Gabriella
Gabriella was an about 12 year old Miniature Schnauzer who we rescued from the San Diego shelter. She was a lovebug as can be seen from the photos. The first photo shows a very happy Gabby with Rita Rodriguez who kindly brought her part way to Los Angeles. The second shows her looking more like the beautiful Schnauzer she was after a bit of trimming.
Gabriella loved people and enjoyed the company of other dogs.
Gabriella weighed about 18 lbs. She had a large cataract in one eye and a smaller one in her other eye, but saw well enough initially to get around without bumping into walls or furniture and to find the dog door. With time, Gabriella became blind and deaf. However, by then she knew her foster home well enough to be able to navigate to her favorite places.
Gabriella was living in Pasadena. She passed away on February 13, 2018.
Rescue Schnauzer Mix Blossom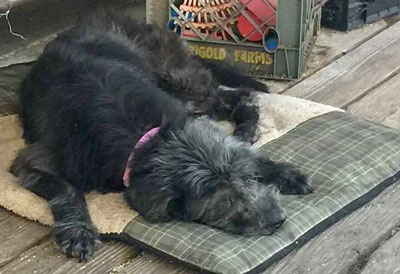 We rescued Blossom from the Pasadena shelter in April 2017 when she was about 15 years old. She weighed 39 lbs.
We were able to rescue Blossom because our friends at St. Martin Animal Rescue, a senior dog rescue in Oregon, agreed to take her.
Blossom was not in great shape when we got her, but we and St. Martin's Animal Rescue, nursed her back to health. Blossom's adopter knew she'd only have Blossom for a fairly short time but nonetheless agreed to make the rest of Blossom's life the best of Blossom's life. Blossom passed away in October 2017. Her adopter is grieving Blossom's loss as is everyone who knew her at CMSR and St. Martin's.
Rescue Miniature Schnauzer Timmy
We rescued Timmy from the Solano County shelter in 2013 when he was about 5 years old. We were unable to adopt Timmy out because he had trust issues, particularly with men.
Timmy lived in Sacramento with his foster, Cheryl Barwick, until his death in September 2017.
Timmy was always kind and gentle with other dogs and was always a sweet boy with his foster. Protective, but sweet. Timmy had a big heart, evidenced by how hard he tried to get over his last health challenge. His foster is grieving his loss terribly.
Rescue Miniature Schnauzer Terrier Mix Tori
Tori was a happy little senior Miniature Schnauzer mix. She never met anyone or any dog who she did not firmly believe would be her next best friend.
Tori was about 9 years old when we rescued her in 2015. Sweet as she was, being older, we were unable to find Tori a permanent new home.
Tori had a great life with her long-term foster, Suzi Johnston, but eventually old age took its toll, robbing Tori of her quality of life. As a result, on the recommendation of Tori's veterinarian, Suzi had to have Tori euthanized in September 2017. Thank you very much, Suzi, for providing Tori with what were likely the happiest years of her life.
Rescue Soft-Coated Wheaten Terrier Niko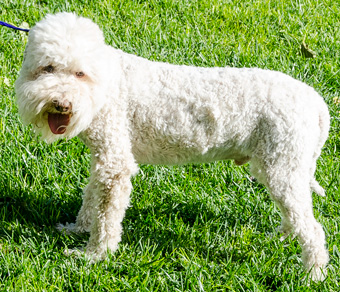 Niko, who was named Mu~eco when we rescued him, was an uber friendly little guy.
Niko was surrendered to the Lancaster shelter after he bit the owner's small child who was teasing Niko. Niko was very timid when we got him, but Niko's personality blossomed. He LOVED to play with people and with other dogs.
Niko was with us for more than 2 years because we had a hard time finding an adopter for him. We became very fond of him during that time and had just found a probably adopter when he suddenly was in great pain. We had him at the vet's for 3 days and they were unable to help him. Niko passed away on January 9, 2017.
Rescue Schnauzer Stanley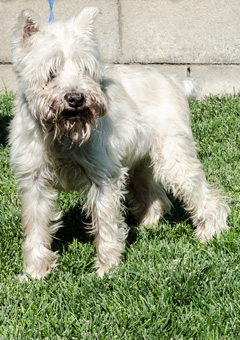 Stanley was an easy going and lovable senior boy, about 10 to 12 years old. We rescued Stanley from the South Los Angeles shelter after arranging for our friends at Muttville in San Francisco to take him. (Muttville is one of the best senior rescues in the country.)
Stanley flew up to Muttville in style, via a twin engine Beechcraft. Once he got to Muttville, he got all the love and attention he deserved! Stanley liked to spend his days snoozing in the sunshine and getting scratches behind the ears.
Stanley appeared to be in good health. Sadly, though, he was not. A few days after arriving at Muttville, he became listless and was throwing up and not eating. Muttville rushed him to the ER. They found massive cancer in his lungs and Muttville had to say goodbye to this sweet guy on September 12, 2016.
Rescue Schnauzer Chucky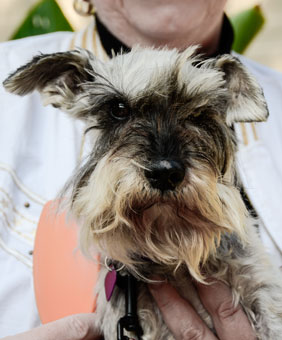 Chucky was a really sweet 15 year old Miniature who we rescued from the L.A. County Carson shelter where they were going to euthanize him if a rescue did not take him quickly. Chucky had come in as a stray but the shelter was able to find his owner. She came in, found how much it would cost to bail Chucky out, and said it wasn't worth it, leaving poor Chucky there.
Chucky looked pretty forlorn when we got him. We trimmed him up a bit, took him to the vet who gave him antibiotics for an upper respiratory infection and found him a wonderful foster home in Pasadena. These photos were taken about a week after we got him. Chucky is enjoying exploring the back yard at his new home, and was using the dog door within a day. See Chucky's before and after video. A few months later, we moved Chucky to a new foster home near Laguna Beach.
Chucky was quietly affectionate. He was friendly with everyone.
Chucky's fosters worked hard to make the rest of his life the best of his life.
Sadly, Chucky's body finally wore out and he had to be euthanized on February 19, 2016.
Rescue Schnauzer Bobby
Bobby was about 10 years old when we got him in mid-2014. He is pictured here with Rita Rodriguez who very kindly helped transport him to us from the Chula Vista shelter.
Bobby was emaciated and had a terribly infected mouth when we got him. We took him straight to the vet. He had not been eating because he had a hole through his palate and was in a lot of pain from unattended dental problems. We had his dental problems attended to and a feeding tube inserted so that Bobby could be nourished without the food coming out his nose. Unfortunately, Bobby keep shaking out the esophageal tube shown in the photo, so we had to have a pegged tube inserted in his stomach through which he was fed for about a year.
Bobby was a super affectionate dog. He followed his foster around the house and enjoyed sleeping with his foster. Bobby loved people and other dogs.
Bobby had to wear an Elizabethan collar so that he wouldn't try to chew on his feeding tube. One of his joys in life was bonking other dogs with his cone, particularly other dogs who were also wearing a cone. In early 2015, we got in Carolina, a one year old terrier with a broken leg. Bobby bonked her and knocked her back about 6 inches. Carolina wagged her tail and bonked Bobby, knocking him back a couple of feet, and then waited as though saying: "OK. Now it's your turn again." However, Bobby was too smart to keep butting heads with a strong young puppy, so he said: "No. That's OK."
In December 2015, the tumor in Bobby's mouth, which had laid quiescent for about 18 months, suddenly started to grow rapidly. Sadly, we had to have Bobby euthanized on January 30, 2016, after his tumor ruptured and started bleeding.
We were privileged to have 19 months with this wonderful dog.
Rescue Schnauzer Bethany
Bethany was a quiet, well-behaved 8 year old Miniature Schnauzer who we rescued from the Baldwin Park shelter with a broken tibia (the middle bone in the hind leg). A big thank you to Hope for Paws for kindly helping with Bethany's surgical expense!
Bethany was very patient in complying with her cage rest requirements, but one could always see flashes of her sense of humor and desire to be able to get out and play with the other dogs.
Bethany healed up from her surgery and was adopted on December 6, 2015 by a family from La Ca~ada, so she moved only about 4 miles from her foster home. Sadly, she died on January 29, 2016, a little less than 2 months later from a previously undiagnosed tumor on her spleen. Bethany was a very special dog. We and her adopters were privileged to know her for even a short while.
Rescue Schnauzer Otto
Otto was a purebred Miniature Schnauzer who we rescued from the Orange County shelter. He was about 10 years old and weighed about 22 lbs.
Otto was such a sweet boy that the shelter was going to make him available for adoption despite his age. However, they declined to neuter him when they found he had a Grade 3 heart murmur (a moderate level murmur) since they do spaying and neutering on an assembly line basis and don't like to work on dogs who might need extra care during surgery.
Otto was a love. He was very friendly with people and got along with other dogs.
Otto appeared to be in good health apart from the heart murmur. However, when we took him in to the vet and had some lab work done, it appeared that his kidneys were in very bad faith. He was put on IV fluids for 3 days to try to flush out his kidneys. He seemed to be getting better, but he stopped eating a couple of days after going home. We brought him back to the vet's and he suffered seizures a few hours later, The vet then advised that there was no hope. He died on November 14, 2015.
Otto will be sadly missed. We grew to love him dearly in the short time he was with us.
Rescue Schnauzer Duke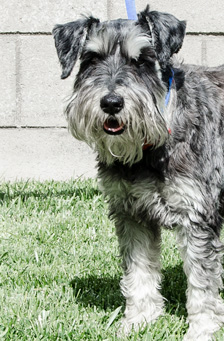 Duke was a purebred dark salt & pepper Miniature Schnauzer with natural ears and a docked tail. We rescued Duke from the Inland Valley shelter in Pomona. The shelter estimated Duke's age as 7. Duke weighed about 24 lbs.
Duke was a quiet, but friendly dog who loved people and got along well with other dogs.
Duke appeared to be in good health. He was neutered, microchipped, up to date on vaccinations when we placed him on June 12, 2015 by a family from Anaheim, who have an 11 year old black female Schnauzer named Coco. She and Duke hit it off at first sight.
Sadly Duke passed away from congestive heart failure on October 23, 2015 after stopping eating and collapsing a week earlier. His adopters, who had taken him to their vet and then an emergency clinic, are heartbroken, as is Coco. We thank them for making the last few months of Duke's life very happy.
Senior Rescue Schnauzer Scotty
Scotty was a very sweet 15 year old Miniature Schnauzer who was surrendered to the Fairfield shelter in October 2014 when his owner became homeless.
Scotty was within hours of being euthanized at the shelter, but Allie of Lily's Legacy Senior Dog Sanctuary got Scotty an extension and contacted us. We couldn't leave him there to die, even though we knew we'd probably never be able to adopt him out.
We found a wonderful foster for Scotty. Here are photos of him leaving the shelter with his new foster and later at home after grooming.
Scottie passed away on July 21, 2015. Here is what Suzi Johnston, his foster, posted about Scotty the last morning:
I knew this day would come sooner rather than later, but it's still so heartbreaking. Last October Scotty came into my life, an owner surrender at 15 years of age due to loss of home. CA Miniature Schnauzer Rescue took care of his medical needs & I cared for Scotty. For those who know him, you know what a sweetheart he's been. Sadly his quality of life is such that he'll be helped to cross the Rainbow Bridge today at 3 p.m. Please send prayers & good wishes to send Scotty to a life with sight, hearing, no pain & the ability to run. Enjoy these pictuires of my sweet Scotty.
It is hard losing a dog so soon after adopting or fostering a senior, but there is a special joy in knowing you have provided a senior dog with a happy and dignified end to his or her life. Thank you, Suzi, for giving Scotty 9 happy months he would not otherwise have had,
Rescue Terrier Mix Rachel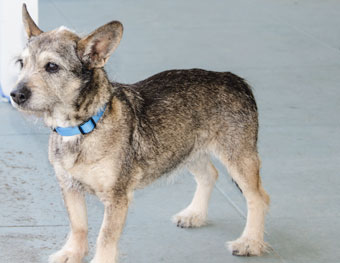 Rachel was one of the sweetest dogs ever born. She looked like she might have been a terrier/Corgi mix. We rescued Rachel from the Riverside shelter. The shelter had estimated her age at 12, but even their Rescue Coordinator said Rachel was much younger. We guesstimated 7. Rachel weighed 16 lbs.
Rachel loved people and got along with other dogs and with cats. She loved to be petted and to cuddle but she never not jumped all over the objects of her affection.
Rachel died on May 9, 2015, a very sad day.
Rescue Schnauzer Vicki
Vicki was was a purebred neutered Miniature Schnauzer. who was quite elderly when we rescued her from the Ventura County shelter in June 2013. The shelter was about to euthanize her and called us at the last minute. We said we'd take her and ran to get her.
Vicki had foul breath when we got her. She went straight from the shelter to the vet's office for a dental. When they did the dental, they found a tumor in her mouth. The vet removed as much of the tumor as he could, but told us that things did not look good. Somehow, though, Vicki beat the odds. The tumor never came back.
Vicki was kind of aloof. She never growled or snapped but did not seem to enjoy being held or patted. In fact, the only things Vicki seemed to enjoy were eating and lying in the sun.
Vicki had several health crises over the next 22 months. We thought we would lose her several times, but she always bounced back. She grew increasingly frail, however. By late June, poor Vicki was having difficult walking and was sleeping most of the time. When she then stopped eating, we ran her to the vet, who said it was time to let her go. Vicki passed away on April 27, 2015. She is sadly missed.
Rescue Schnauzer Charlie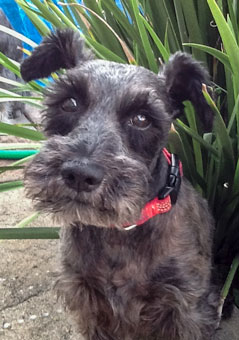 Charlie was a purebred neutered Miniature Schnauzer who was about 9 years old when we rescued him, but had the spunk and vigor of a much younger dog.
Charlie was adopted by a retired couple from Sonoma on February 5, 2014. Sadly, he passed away on April 10, 2015. Here is what his devastated adopters wanted everyone to know.
With great sorrow I write to you now with news of Charlie's passing earlier this evening.
Only yesterday evening he was catching tennis balls in the air. This morning he shook his collar bell repeatedly until, groggily, I moaned, "OK, Charlie, I"ll get up," at which he dared to jump up on the bed and lick my face until I kept my word. [I had gotten up twice during the night to let him out.]
Today was Patty's 71st birthday so we went out for lunch and an early movie, charging Charlie to guard the fort until we returned. He did his duty. But he was clearly weaker than when we had left and was showing telltale signs of heart failure. Patty was lying on the couch with him when he raised his head, took two labored breaths … and left this world.
We are at once heart-broken and grateful. Heart-broken to have lost so soon the best dog that either of us has ever had and grateful to have shared a time with such a perfect pal. Friends, neighbors, contractors, mailmen—indeed, just about everyone—has said, "I wish I could have a dog like Charlie." I was first attracted to the breed after being impressed with our son's gentlemanly miniature Schnauzer. Charlie made him look like a dull, juvenile delinquent.
Charlie is resting now at the foot of our bed, swathed in his bone blanket and wearing his rescue collar. We will bury him tomorrow in a place that will always be within our sight -- and strategically all will be within his sight—a place in the midst of all the work and social action.
During these fourteen months with Charlie, Patty has not smiled as much and I have not sung so many silly songs as in the many years previous to his presence.
Rescue Schnauzer Sir Oliver (Bubba)
We rescued "Sir Oliver," who his foster called "Bubba," from a Bay Area animal shelter to keep him from being euthenized. Bubba was an old-timer (14 years old), thin, messy coat, half blind, and a little hard of hearing. He found himself at the shelter because his owner had died and the owner's family dumped him there. We wanted to let him live out his final days in a warm, loving, environment.
His foster brought Bubba home for "hospice" care. A few months later, he had become a different dog! He was healthy, energetic, loving, and very, very sensitive. He got along with his foster's other dogs and soon fit in well even though the other dogs made him nervous when he first arrived.
Bubba rarely barked and was quite the gentleman. He liked going on walks, loved being petted and, for the most part, liked sleeping on his bed in the hall. He was impeccably house broken, no trouble, and did quite well when being groomed. We were going to put Bubba up for adoption, but his foster decided to keep him.
Sadly, Bubba suffered a serious seizure and passed away on March 16, 2015.
Rescue Standard Schnauzer Mix JoJo
JoJo was a very sweet senior Standard Schnauzer mix who we rescued from the Riverside shelter. Poor JoJo had been abandoned in a trailer park.
We were told JoJo had a tumor on her leg. We were hoping it was just a lipoma, but we knew the moment we saw her that it was much more serious.
We took JoJo straight to the vet. They said that the leg would have to be amputated, but that there was no point in operating if the tumor had already spread to her chest cavity. We decided to go ahead with the surgery when an xray showed no visible tumors in her chest.
JoJo had her surgery on February 10, 2015. She came through the surgery fine, but tragically stopped breathing 2 hours later.
We had a great foster home lined up for JoJo and were praying that we could give her some very happy time with us. Sadly that was not to be. We miss JoJo very much. She had that special quality to touch those around her even in the very short time we were privileged to have her with us.
Thanks very much to everyone who donated to help with JoJo's surgery expense.
Rescue Schnauzer Garrett
Garrett was a dignified older gentleman of the Schnauzer world. We rescued Garrett from the shelter in Irvine where he was a favorite with the staff. The shelter estimated his age at about 12. He was a handsome boy with natural ears and a docked tail.
Garrett had a pretty thorough exam at the Irvine shelter, including some blood work. The exam showed he was in good health with a minor heart murmur but that he had lost some of his hearing. He needed a dental which we had done.
Garrett was a sweet boy who loved people and got along well with other dogs. He was pretty lively until the last couple of months. He became close friends with Barbara when she arrived at his foster home and the two of them liked to sleep side by side.
Garrett was developing dementia and missed Barbara after she passed away in early December 2014. By December 31, he was acting as though he was uncomfortable and had lost most of his appetite—he had been a voracious eater. Sadly, the vet said there was nothing more that could be done for Garrett and recommended euthanization. Thanks very much to Leslie Delli-Venneri for fostering Garrett (who she called "Panny") and making his last days happy.
Rescue Schnauzer Mix Barbara
Barbara, aka Babs, was a cute, friendly Schnauzer mix who we rescued from the Baldwin Park shelter. They estimated her age at 13.
We had Barbara's teeth cleaned and those that could not be saved were extracted, which made her feel much more comfortable.
Barbara loved everyone, and got along with other dogs and with cats. She and Garrett became close frineds.
Barbara seemed to be in fairly good health when we got her, but her health started to decline a few months later.
Thanks very much to Leslie Delli-Venneri for fostering Babs and making her last days as happy as possible.
Rescue Schnauzer Cookie
Little Miss Cookie was a big sweetie pie and has a lot of gumption. We rescued her from the Chula Vista shelter in October 2013. She was a senior, 12 lb, salt and pepper Miniature Schnauzer with cropped ears and a docked tail.
Cookie absolutely loved cuddling and sleeping in laps. She didn't mind her crate, but would much rather be hanging out with the family.
Cookie loved being in the sun and checking out the neighborhood, but had arthritis in her back, so short walks and brief activity were best. She seemed to see very well, but did have some difficulty hearing. As she was incredibly intelligent, she was quick to learn other forms of communication like hand signs for basic commands.
Cookie was fostered by Nicole and Ryan Birdsall, a wonderful couple in San Jose who provided her with lots of love. Sadly, Cookie's health eventually deterioriated to the point where she was no longer enjoying life. Cookie passed away on Veteran's Day, November 11, 2014.
Rescue Schnauzer Jimmy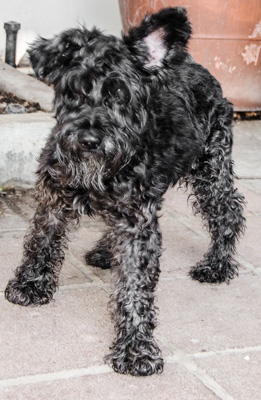 Jimmy was an 8 year old black Miniature Schnauzer who we rescued from the Pasadena shelter. Poor Jimmy had diabetes and cataracts, though he still had some sight. He had natural ears and a docked tail. He weighed about 20 lbs.
Jimmy was as sweet as they come. We groomed him immediately after pulling him from the shelter and before taking him to his foster home. Even though he was with strangers and with limited sight, he behaved better than most fully sighted dogs behave when being groomed by people they know.
Sadly, Jimmy's diabetes was unstable and the vets could not get his sugar levels stabilized. He passed away on October 28, 2014. He was a super-sweet dog to whom we became very attached in the short time we were able to have him with us, and he is sadly missed. Thanks very much to Leslie Delli-Venneri for fostering Jimmy.
Rescue Dog Schevo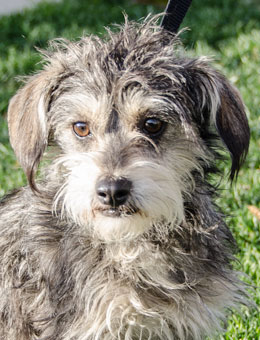 Schevo was about 11 months old when we rescued him from the Chula Vista shelter.
Schevo was very scared of people when we got him, though he loved other dogs. He was a very sweet dog. He never snapped or growled at anyone, despite being very scared. He would let us pick him up and cuddle him despite feeling very uncomfortable about being held.
In June 2014, we found a foster for Schevo in northern California. After a short while, Schevo started to bond with his foster and became very fond of her, as well as enjoying playing with her other dogs.
We wish there was a happy ending to this story, but poor Schevo could not catch a break. About a month after arriving in his new foster home, Schevo was diagnosed with megaesophagus—a disorder in which the throat muscles do not move the food adequately down into the stomach. He needed to be fed several small meals a day and to be kept with his head elevated for several minutes after eating. We spent several hundred dollars on barium xrays for a definitive diagnosis.
Schevo was getting used to the routine and was starting to put on some much-needed weight. Sadly in September 2014, Schevo developed aspiration pneumonia, as happens to almost all megaesophagus dogs. Schevo's vet treated him with antibiotics but he did not respond to them, and his vet recommended euthanization. Schevo passed away on September 19, 2014 in the arms of his foster.
Schevo was only with us for 10 months but everyone who met him absolutely loved him. His foster and her other dogs miss him very much. Thanks very much to his wonderful foster who went way beyond what was anticipated when she agreed to foster Schevo.
Rescue Schnauzer Caitlin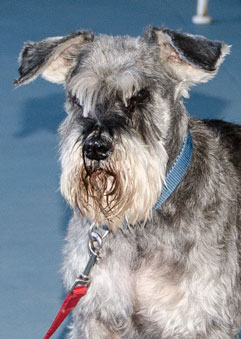 Caitlin was a senior purebred salt & pepper female Miniature Schnauzer. She was about 12 years old. We rescued Caitlin from the L.A. North Central shelter the very day she was to be euthanized.
Sadly, Caitlin had a heart murmur, enlarged heart and enlarged lungs. We started her on Enalapril to reduce the stress on her heart.
Caitlin was quietly affectionate with people. She loved other dogs and was flirting shamelessly with a 50 lb. male retriever while she was at the vet's when we first got her. She was quiet and enjoyed being petted and going on walks.
Caitlin passed away suddenly on May 15, 2014. Caitlin lived a happy 18 months in her foster home with Carol Ebbinghouse, and Miniature Schnauzers Smokey and Koby, who all sadly miss her. Thanks very much to Carol, Smokey and Koby for giving Caitlin a wonderful home with lots of love.
Rescue Schnauzer Desi
Destiny was a purebred salt & pepper Miniature Schnauzer, who was about 8 years old when we rescued her from the Castaic shelter. All the workers and volunteers there had fallen in love with her. They desperately networked her but most rescues were afraid to take her because she had a large red growth on her upper lip.
We did not know how things would turn out, but we decided this girl was too sweet to let her die without a fight. Three surgeries later, Destiny appeared to be cancer free. She sacrificed her upper lip in the process, but none of her indominatable spirit. A HUGE thank you to Drs. Hohne and Hart who worked on Destiny at much less than usual rates. As she had at the shelter, Destiny won the hearts of every one at East Valley Veterinary Clinic. Whenever we arrived at the clinic with another dog, the first question was always "How is Destiny doing?" And Destiny loved to visit for checkups. As soon as she arrived, Destiny wanted to greet everyone she saw, whether employees, customers, or their dogs.
Destiny did not seem ever to have met anyone or anything she did not like. She loved to play with soft toys and loved to cuddle. She also loved giving kisses to anyone she met.
Destiny was adopted on December 12, 2013 by a wonderful lawyer from Solvang who called her Desi. Desi's adopter had adopted Snowflake (now Abigail) from us a few months earlier. Desi fell in love with her adopter as soon as they met and also hit it off with Abigail.
Sadly, Desi's cancer returned in the jaw and was inoperable this time. Her adopter kept Desi comfortable as long as she could, but inevitably the cancer took over. Desi passed away on May 9, 2014. She will be sadly missed by everyone who ever met her. A big thank you to everyone who helped Desi, and especially her adopter.
Rescue Schnauzer Vince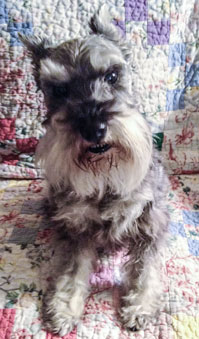 Vince was a sweet salt & pepper Miniature Schnauzer, who was about 8 to 9 years old when we rescued him from the Ventura County shelter in early October 2013.
Vince was a handsome boy with cropped ears, and a docked tail. Vince had a sparkling personality. He loved people, got along well with other dogs, and had a lot of energy for a senior.
Vince had a large growth on his rump when we got him. We had it removed and then placed him with wonderful fosters, Bill and Mary Brown, in San Jose. Vince had several happy months with the Browns until he became very ill on May 8, 2014. Their vet ran blood tests and put Vince on fluids. At first he seemed to be getting better, but later in the day he took a turn for the worse and was clearly in pain. The vet took xrays, found a large tumor on his lungs and told us that there was no hope.
We will all miss Vince very much. He was a very sweet dog.
Rescue Schnauzer Stuart
Stuart is a purebred black Miniature Schnauzer. He is somewhere between 10 and 12 years old. He came to us from the San Bernardino City shelter, a very high kill shelter.
Stuart was extremely underweight when he came to us, lethargic, and had both ear and respiratory infections. He had large growths on his stomach and his chest. After he was successfully treated for the infections, the vet advised us to have the growths removed as the one on his stomach hung between his back legs making it difficult to walk, and the one on his chest seemed to be causing breathing problems. As it turned out, the growth on his chest was wrapped tightly around his esophagus, most likely the reason he wasn't eating well and was so thin. He has also had a dental done.
As you can see from his after-surgery photo, Stuart recovered from his surgery, and was transformed into an elegant gentleman.
Sadly, it appears that his tumors had metastasized. After a few months of living happily with us, Stuart started to be in pain. At first, pain medications kept Stuart comfortable, but he needed increasing doses.
On January 25, 2014, our vet advised that keeping Stuart alive any longer would not be a kindness. We miss him very much because he was a very sweet dog to whom we became very attached.
Rescue Schnauzer Philips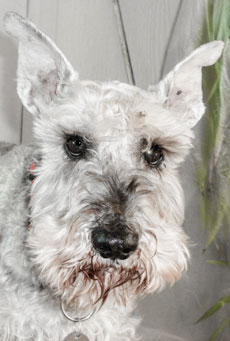 Philips is a purebred salt & pepper Miniature Schnauzer. He is 16 years old - but you wouldn't believe it because he is very active for his age. Phillips is a larger boy at about 24 lbs. We rescued Philips from the LA County shelter in Lancaster.
Phillips has a wonderful gentle personality and quietly follows his foster mom around like a shadow. He enjoys receiving all the attention he can get. He is housebroken and consistently uses the doggie door.
Philips has a great appetite and is accustomed to taking a long nap after meals, many times sharing the doggie bed with one of the other senior schnauzers in his foster home. Phillips loves to go for a ride and is very good on lead showing off his peppy gait. He demonstrates how happy he is when his foster mom returns home by being first to greet her at the door with his tail wagging and nose pressed close to be petted.  Phillips is one of those "good old boys"—a real treasure.
Philips is neutered, microchipped and up to date on vaccinations. His teeth were in bad shape when we got him, but he has had a complete dental and his teeth are good now.
Philips passed away on December 2, 2013, just 4 days short of a year after we rescued him. A HUGE thank you to Meg Kegle for making the last year of Philips' life possibly his happiest.
Rescue Schnauzer Buddy
We picked up Buddy from a Bay area shelter where he had been left to be euthanized by his owners, because he got "too old" and they didn't want him any more! We expected to see a very old, decrepit, dog. What our foster found instead was a very overweight, confused, Miniature Schnauzer who didn't have a clue as to why he had been thrown away! Someone had given him a quick shear job to get his matts off, and he had sores on his skin, ears, and around his eyes. He had a foreign name so his foster changed his name to "Buddy". She put Buddy on a diet, took him to the vet about his skin and ear problems, and gave him a real Schnauzer haircut. Once his foster could see those big, beautiful Schnauzer eyes, and found what a gentleman Buddy is, she fell in love with him.
Buddy is the best mannered, polite, gentle, and loving foster dog his foster has ever worked with. He has no behavior problems, is quiet, house-trained, a good watchdog, and loves lying quietly at her feet when she watches TV. He is about 10 years old (per vet), has good teeth, but does need to be neutered. Buddy had a horrible skin and ear infection but with medication those have cleared up. He is not an alpha male and gets along with his foster's other neutered male Schnauzer, Timmy, quite well. Buddy was horribly obese, but now he is just overweight. He likes to go on walks, is on a limited dry kibble diet (which he doesn't like!), and would do very well in a quiet home with no cats or kids (he hasn't been exposed to either, except his foster's feral cats, which he loves to chase). Buddy's hips and elbows are good (were x-rayed) and he should live many more productive years as a loving companion and/or hiking buddy. His favorite place to sit when his foster is gone is on the couch, looking out the front window, waiting for her to come home. He is such a sweetie!
Buddy died of congestive heart failure on November 11, 2013. Thanks very much to his foster, Cheryl Barwick, for giving Buddy several happy months before he passed away.
Rescue Schnauzer Benny
Benny is an 8 year old purebred male Miniature Schnauzer We rescued him from the Sacramento shelter where he had been turned in as a stray and was about to be euthanized.
Benny is the sweetest of boys and gets along with other dogs and even cats. He is an easy keeper and just wants a lap to lay his head on.
Benny unfortunately had been foraging for food for a while and had extensive dental problems which our rescue has taken care of.
Benny's foster say he has never had a single accident in the house. Benny is neutered, microchipped and up to date on all vaccinations.
Benny's family fell in love with him. He stayed with them in Jamestown until a massive tumor paralyzed his hindquarters in early November 2013. Thanks to Tom and Karen for proving Benny a loving home for his last two years.
Rescue Puppy Lizzy
Lizzy is an outgoing, friendly female puppy who we rescued from the Lancaster shelter. She is about 5 months old and weighs about 8 lbs.
Lizzy is a happy, energetic puppy who wants to play with anyone and anything who will play with her.
Lizzy appears to be in good health. She is microchipped and current on vaccinations. She will be spayed before placement.
Lizzy became very ill on October 21, 2013. We rushed her to the vet's. She had a massive infection, as a result of having a previously undiagnosed liver shunt. Sadly, the vet concluded that Lizzy would not be able to lead a normal life and recommended euthanization. We will miss this very sweet puppy very much.
Lucky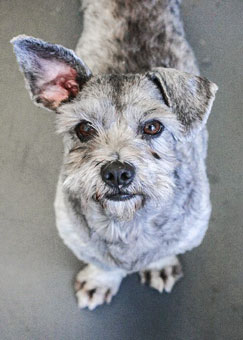 Lucky and Willy were very sweet Schnauzer mixes who were surrendered together to the Ramona Humane Society because their previous owner couldn't take care of them any longer. They were about 7 years old. Lucky weighed about 14 lbs.
Lucky and Willy were both very friendly and loved affection. Their prior owner said that Lucky and Willy were great with kids and other dogs. Both loved to play.
We transferred Lucky and Willy to Northern California Family Dog Rescue in San Francisco. which was able to find homes for them much faster than we could. Willy was adopted within two weeks. Tragically, on August 22, 2013, just two days after Willy was adopted, Lucky, who was living with an experienced foster, escaped from his harness and was hit by a car, which killed him instantly.
Rescue Dog Millie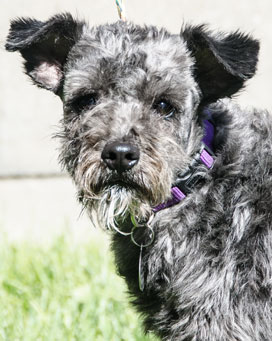 We rescued Millie, a black Schnoodle, from the Moreno Valley shelter. Millie was about 5 years old. She had pneumonia when we got her, but we nursed her through that and she seemed to be feeling good. But, when we took her in to be spayed on May 30, 2013, it turned out that she had a dead puppy in her uterus. She collapsed during surgery. The vet was able to revive her but she died shortly thereafter.
Millie was friendly and affectionate, and she liked other dogs, She became very attached, very quickly, to her foster and followed him around the house all day; and he became equally attached to her.
Millie is sadly missed.
Tucker
Toward the end of January, 2013, Tucker, who we had rescued from the San Jose shelter, joined Philips, another senior Schnauzer, who was being fostered by Meg Kegle. They quickly became close friends.
Meg realized Tucker was very special right from the beginning Tucker was a very gentle but playful little guy and was a pleasure to have around. He had a great appetite and hardly acted like a dog of 15 years.
Tucker was immediately scheduled to have his bad eye removed. He came through his surgery very well and recovered fully.
One night Tucker had seizures and was taken back to the vet where it was determined he should be put on anti-seizure medication. Tucker never had another seizure, but as time went on, Tucker just became "tuckered out." The vet said he might have had cancer.
We lost Tucker on April 10, 2013, but he enjoyed a good and comfortable life his last months in loving foster homes. Thanks very much to Rowena Morrison and Meg Kegle for making the last few months of Tucker's life a very happy time for him.
The photo shows Philips on the left and Tucker on the right, peering out through two adjacent glass panels in Meg's front door.
Scottie
Scottie was a dog we rescued in 2010. He was about 7 at the time. Scottie was very laid back and very lovable.
Scottie's owner had had him since Scottie was a puppy but she moved to a care facility and could no longer care for Scottie. We placed Scottie in a new home in Lafayette on August 29, 2010, where he was adored by his new owner.
Sadly, in late 2011, Scottie started losing weight. His veterinarian was not sure what was wrong, but suspected cancer. Unfortunately, Scottie kept getting worse and died on January 20, 2012. Here's what his adopter said about Scottie: "I miss him desperately and know that he was that dog that comes along every once in a great while."
Odie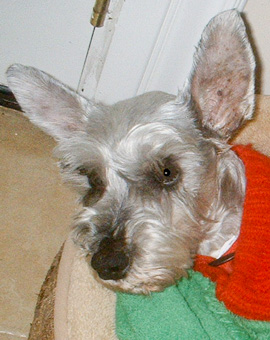 We rescued Odie from the Stockton shelter in the spring of 2011. Odie was 12 and we knew the odds of placing him were slim, but we could not let this senior gentleman die in a shelter.
Shortly after we rescued Odie, we learned that he had a likely malignant mass in his abdomen. The vets said that surgery was out of the question for a dog of Odie's age and recommended just making the rest of his life as happy as possible. Fortunately, Odie had 6 happy months before he passed away in November 2011. A heartfelt thank you to Meg Kegle who kindly fostered Odie for those 6 months.
Few people are willing to foster a terminally ill senior dog because they know how sad they will feel when the dog passes away. However, there is a special reward in knowing that you made the last days of a dog with a bleak future as happy as possible.
Nick
Nick was found by a river bank in Fair Oaks, CA. As is evident from his photo, Nick was suffering from mange, and as we learned after we received him, Nick also had a serious heart murmur. Rescue Committee member Betsie Corwin fostered Nick for about three weeks and grew very fond of him. Nick was recovering from the mange and starting to enjoy life when he went into organ failure on August 30, 2009. Nick loved people, other dogs, and even cats. Nick will be sorely missed.
Placer Guy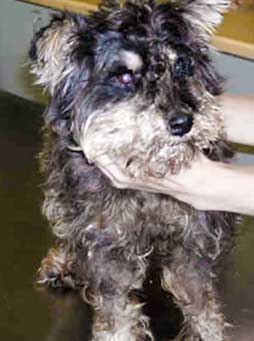 This cute guy was a very sweet 12 year old Miniature Schnauzer who came into the Placer County shelter in late April 2009. We listed him on this page as available for rescue. Shortly thereafter, the shelter had him examined by a veterinarian who reported that he had serious liver damage due to badly infected and long neglected teeth. The shelter decided to euthanize him because of his condition and his age. This tragedy would never have happened if his owners had taken adequate care of him.
Carlos
Carlos was a 9-year old Miniature Schnauzer who desperately needed a new home. Carlos' owner had died and he was left alone for 3 weeks before he was discovered and turned over to San Leandro Animal Control. Rather than take him to the shelter, one of San Leandro's Animal Control Officers fostered Carlos, but she could not keep him permanently because she was moving. She had Carlos' medical work updated—blood panel, shots, worming, and microchipping.
The Animal Control Officer placed Carlos with Muttville, a rescue that specializes in older, hard to place dogs. Muttville returned Carlos because he started to act aggressively towards people coming into the house. The Animal Control Officer then asked us to take Carlos. We placed him in a foster home, but Carlos continued to exhibit aggressive behavior, and the foster home could not keep him. The Animal Control Officer took Carlos back. She and we tried to find him another home, but ultimately the Animal Control agency directed that Carlos be euthanized because of fear of liability.
The case is particularly sad because Carlos was house trained and a real sweetheart with people he knew. For reasons unknown, though, he became overly aggressive around strangers. Unfortunately, neither we nor the Animal Control Officer were able to find someone with the expertise and willingness to try to rehabilitate Carlos.
Rescue Schnauzer Pepper
Pepper came to us from the Ventura shelter in Camarillo. She is a purebred female salt & pepper Miniature Schnauzer, who appears to be about 6 years old. After we rescued her, we found out that she is blind.
Pepper was a very sweet girl. She loved people and other dogs. She got along with cats too. Her lack of sight did not seem to bother her much.
Pepper appeared to be in good health. She was spayed, microchipped and newly vaccinated.
Pepper died suddenly and unexpectedly on May 24, 2012. We miss her very much.
Rescue Dog Rerun
It is always sad to lose one of our dogs, but we were at least able to provide Rerun with a happy time before he passed away.
Rerun was a senior male Schnauzer-Chihuahua mix. He could have been as old as 15, but he was pretty spry and enjoyed going on walks.
A wonderful lady, Carol Ebbinghouse, agreed to foster Rerun, knowing that the odds were that we would be unable to place him. She had a cat, Hershey, and a Schnauzer, Smokey. Rerun got along well with both Hershey and Smokey and became the "boy-toy" of the neighbor's small female dog, Tessa, pictured beside Rerun.
Carol fostered Rerun for almost 6 months until he developed dementia and started to attack Hershey who, understandably retaliated. By then, Rerun no longer recognized either Carol or Tessa.
Carol is one of the true heroes of Rescue. Thanks, Carol, and thanks Hershey, Smokey and Tessa for making Rerun feel so welcome.
Rescue Schnauzer Ewok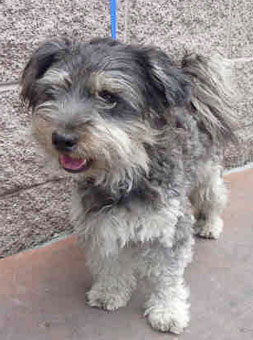 Ewok was a salt & pepper male Miniature Schnauzer, about 2 years old.
Ewok had natural ears, a natural tail, and a heart of gold!
Ewok was super-friendly. All the volunteers who saw him at the shelter loved him. One even shot a video of him, and was heard to say in the video: "What a sweetheart."
We thought the shelter could find a new home for Ewok faster than we could, since we already had 7 dogs up in Lancaster where we would have had to put him. We listed him on this page and suggested to a couple of potential adopters that they go look at him.
Sadly, Ewok died at the shelter on June 25, 2011, probably of pneumonia. He deserved a lot better.
Rescue Dog Dave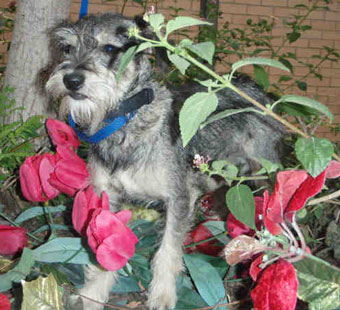 Dave was a very affectionate neutered male Miniature Schnauzer, about one year old. Dave weighed about 11 lbs when John Hoffman rescued Dave from the Los Angeles North Central shelter on June 19, 2009, though his normal weight should have been 12–13 lbs. Dave was on death row because he had nipped a technician at the shelter who frightened him, but Dave became a happy, trusting dog within hours after arriving at John's.
The photo on the left is Dave doing his best to hide at the shelter. The photo on the right is a much happier Dave, a couple of days after arriving at John's, wearing his Elizabethan collar so that he wouldn't tear out his stitches from being neutered.
Tragically, Dave came down with parvovirus about a week after arriving at John's, even though the shelter had vaccinated Dave upon intake. Dave died despite our best efforts to save him. Dave's death points up the necessity of keeping vaccinations current. Dave was vaccinated by the shelter upon intake but apparently was exposed to the parvovirus before his immunity had had time to build.
Rescue Dog Julio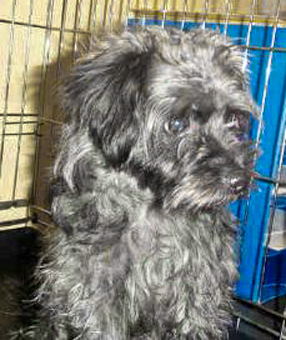 Julio is a very cute Schnauzer mix who we tried to rescue on August 16, 2009. Julio is about 1 1/2 years old and was very frightened by life at the East Valley Animal Shelter in Van Nuys, CA. His former owners had done nothing to socialize Julio and he doesn't even know how to walk on a leash.
The shelter lost Julio and another small dog, Howie, while delivering them to a veterinarian's office for neutering on August 17. John Hoffman walked the neighborhood on August 17 and 18 and posted flyers about the two dogs. On August 18, John located someone who had found Howie. Howie's original adopter backed out after the shelter lost Howie, and the person who had found Howie decided to adopt him from the shelter. There is still no word yet on Julio. Please say a prayer that someone has found Julio and that he is safe. The shelter had microchipped Julio and registered him to John, so we are hoping that we will yet hear about Julio.
© California Miniature Schnauzer Rescue, Inc., 2012–2023
Last Updated: March 14, 2023